Pamela Chatterton-Purdy

Selections from Icons of the Civil Rights Movement
Artist's Statement
As an artist, I was educated to believe that a piece of artwork should be created to "speak" to the
viewer in every sense of the word. The people, places, and events of the Civil Rights Movement,
and particularly its philosophy and practice of non-violence, led me to believe there was a "Holy
Spirit" dimension to this movement. The faith and courage of those who demonstrated for equal
rights despite terrorism, assassinations, and humiliation during the 1950s and '60s was
extraordinary. In a world where African-Americans were treated as subhuman, these ordinary
people who risked physical harm, imprisonment, and death knew that they were the beloved and
precious children of God.
My husband, David, and I were married in June of 1963. That August we witnessed the March on
Washington. In September, I was hired as an art editor at
Ebony Magazine
in Chicago. A few weeks
later, the 16th Street Baptist Church in Birmingham was bombed, killing four little girls. We were
soon immersed in the Civil Rights movement.
We adopted our first African-American son in 1971. He was three years old and we added him to
our family of two biological daughters, ages five and two. In 1975, at the fall of Saigon, we adopted
our biracial son, his mother Vietnamese, his father a black American soldier. We learned personally
and as a family the sting of racism.
In 2004, David and I went with a large group of high school students on a "Sojourn to the Past:
Taking History into the Future." On this extensive trip to the South, we visited many iconic places
where events of the Movement had happened. We also were privileged to meet numerous people
who had played crucial roles in the Movement. Following our return, I decided to do a series of
paintings to celebrate, honor, and commemorate the people and places of the Movement.
In the fall of 2007, in preparation for this task, I took a week-long gold leaf workshop in New
Hampshire. A spiritual author, Madeleine L'Engle, once observed that "an icon is a window to
God." By then, I knew I wanted do this series in an "iconic" form reflective of the equality of all
God's children. Before I began the workshop, it was my intent to use canvas in a manner similar to
my previous series,
Icons of 9/11
. However, wood was used in the workshop on which the gold leaf
was applied. Therefore I decided to use wood panels to build each civil rights icon. Scripture, wood,
and found objects became the materials that spoke to me. The durability of wood, the sacredness of
gold leaf, the possibilities of found objects were endless. Each icon was designed to highlight the
uniqueness of each person or event. I began with an undercoating of red paint, which I deliberately
allowed to break through the gold leaf symbolizing the Holy Spirit and the blood sacrifice. Even
the shape of each icon was designed to suggest to the viewer either a holy tablet, a monument, a
bridge, a cross, or even a headstone.
It is my hope that
The Icons of the Civil Rights Movement
will commemorate and honor the
people whose sacrifice, in the name of justice, might never be forgotten.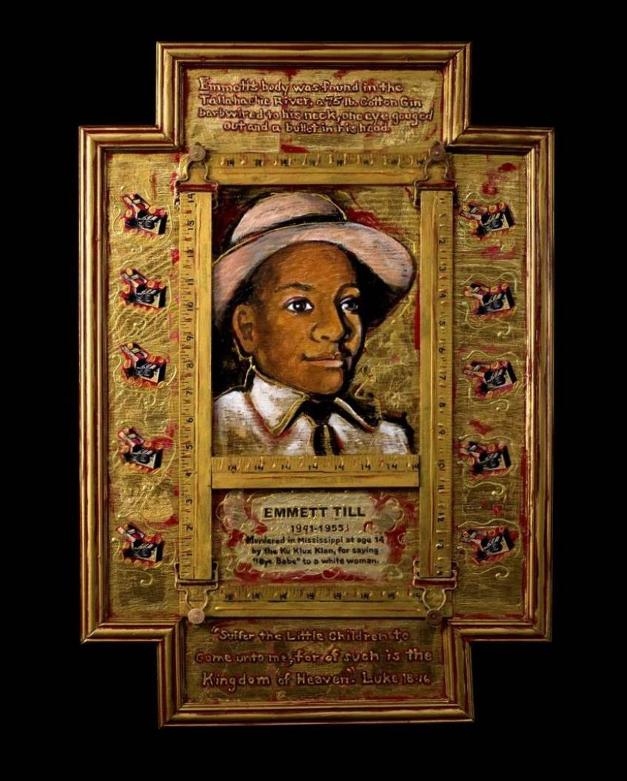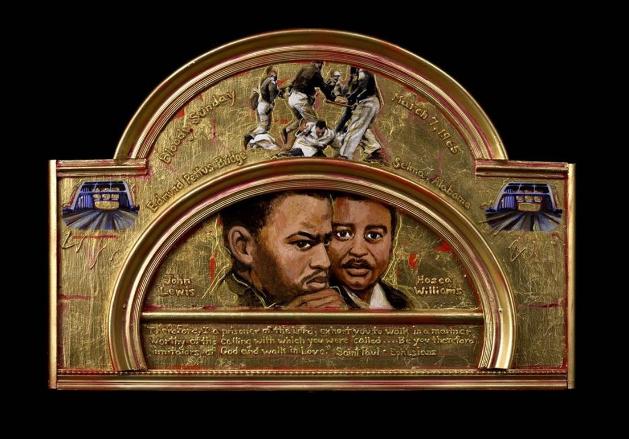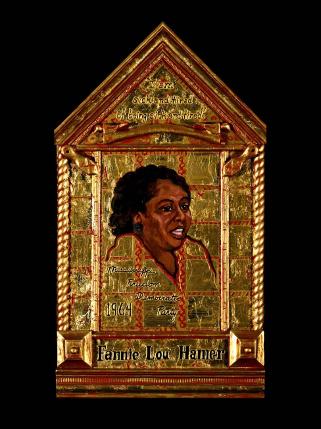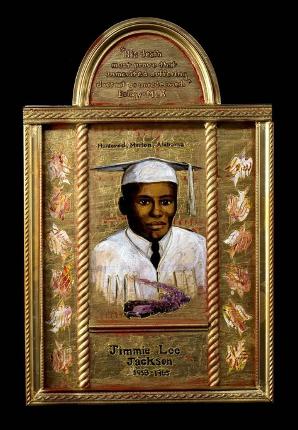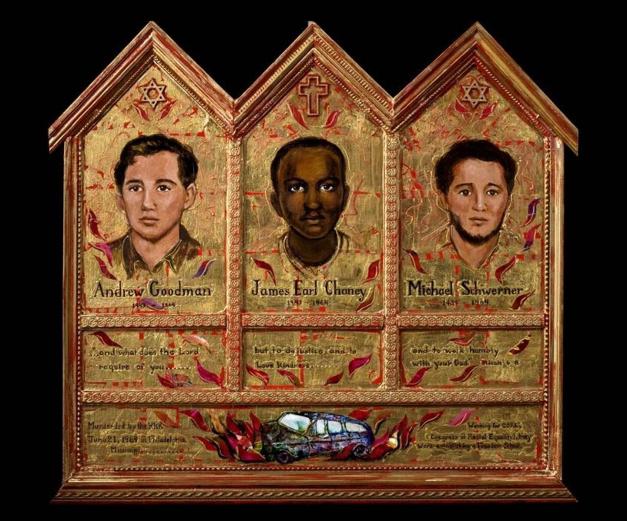 Goodman, Chaney, Schwerner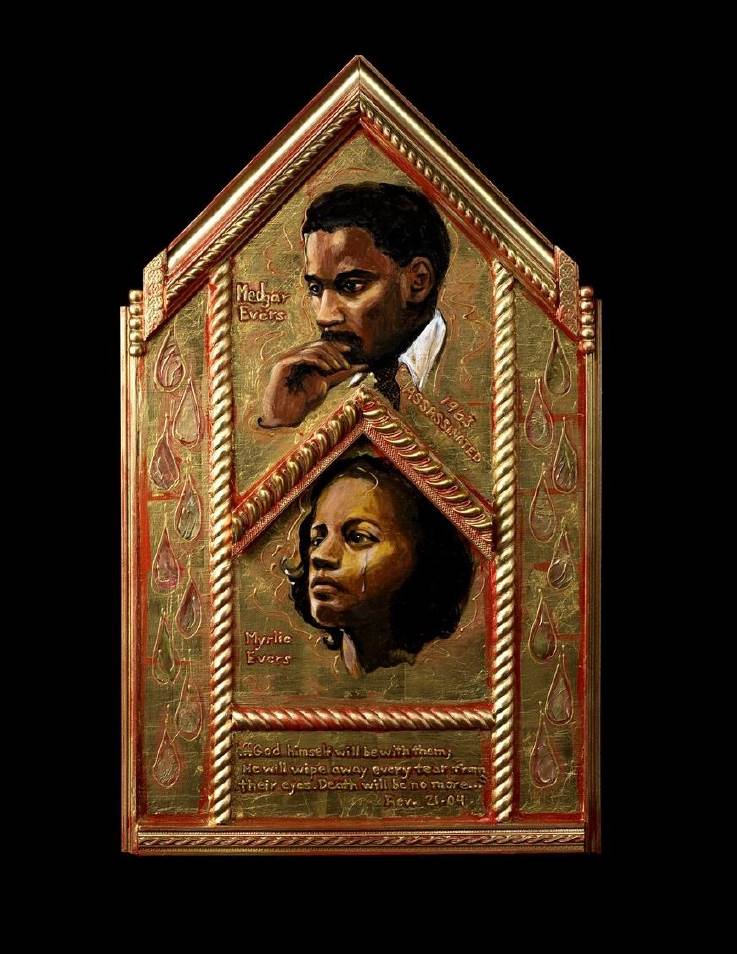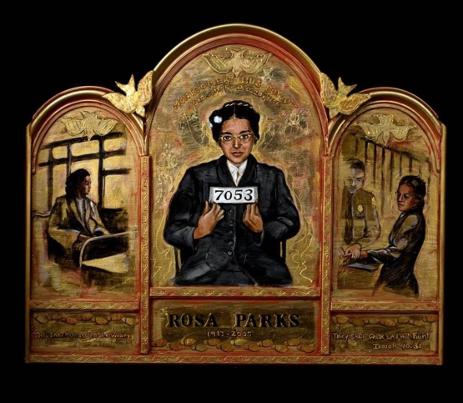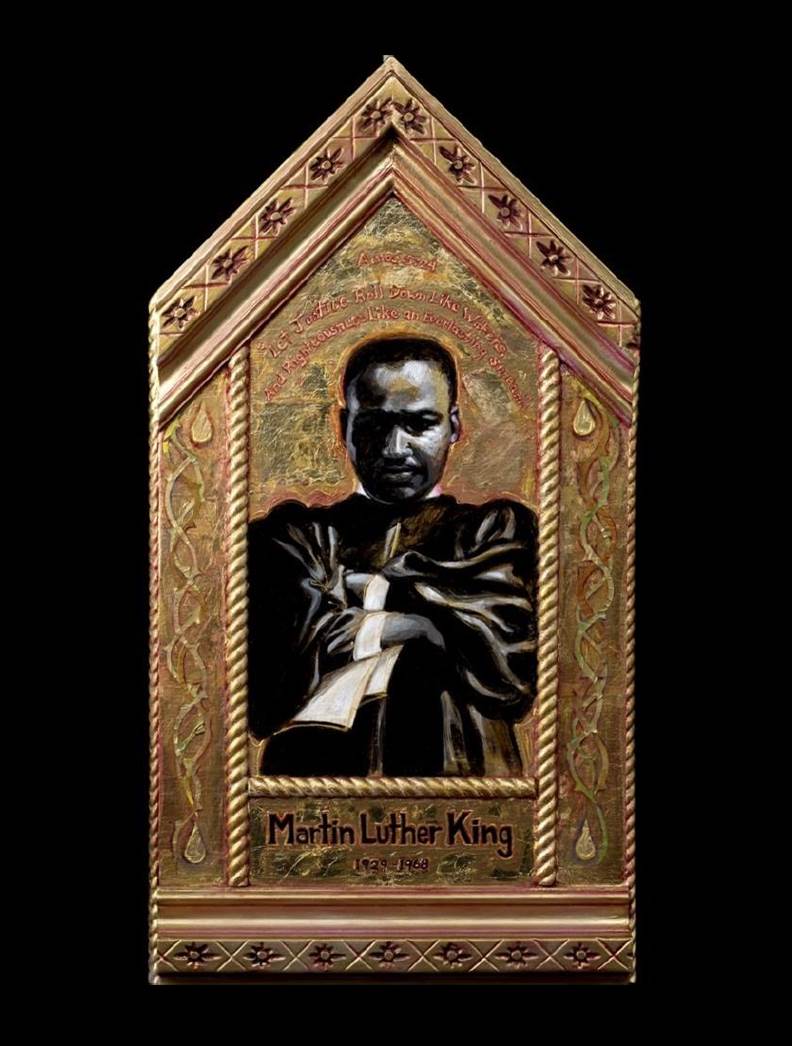 Rev. Dr. Martin Luther King, Jr.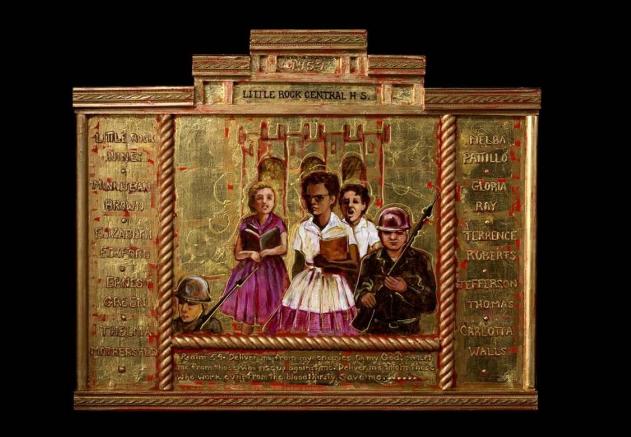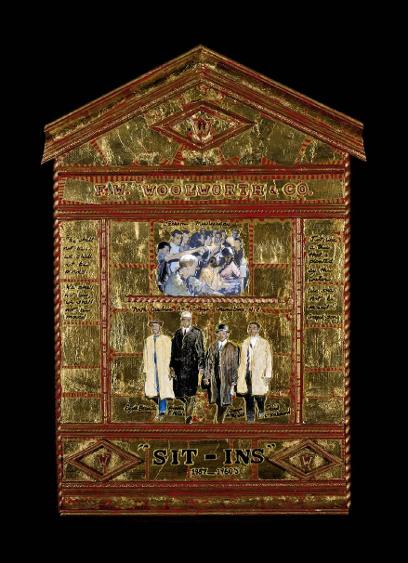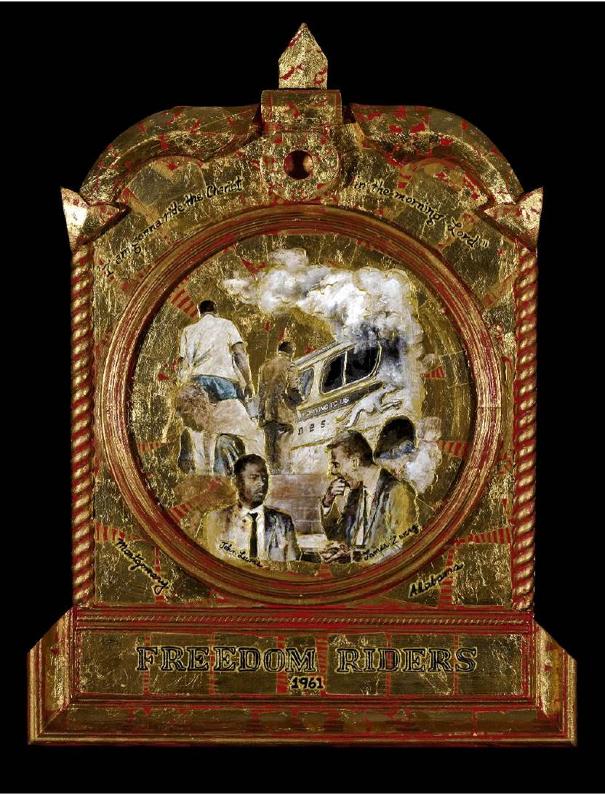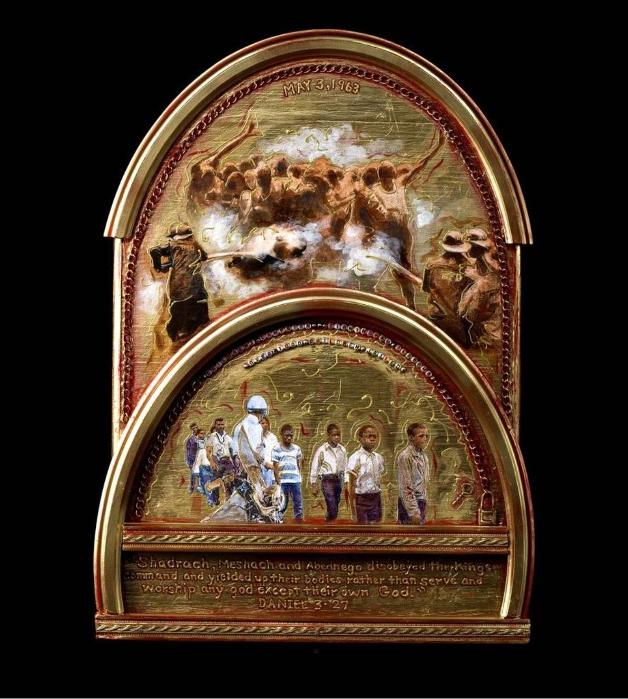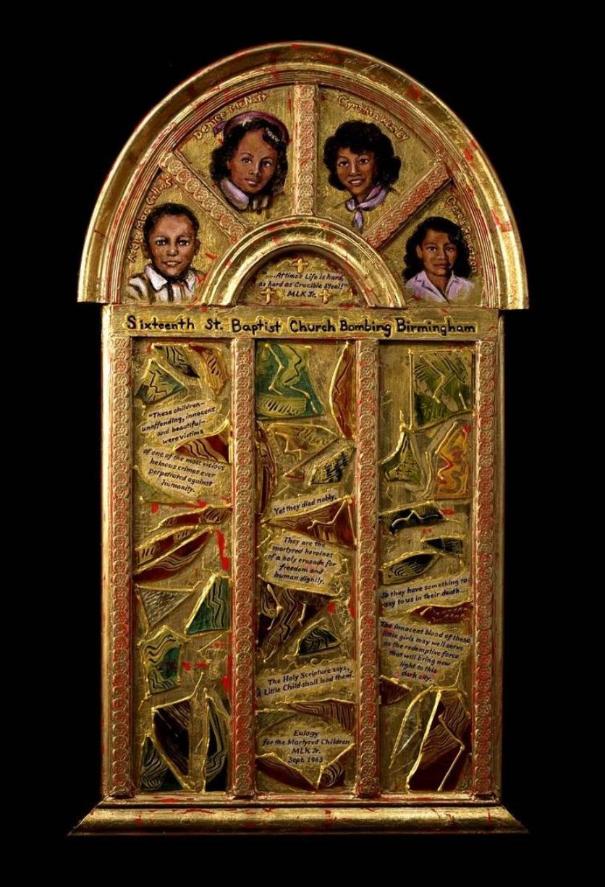 The 16th Street Baptist Church Bombing