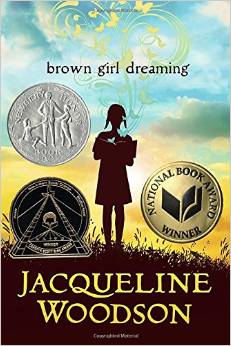 A Coming-of-Age Tale in Two Cities:
Jacqueline Woodson's Brown Girl Dreaming
Review by Kathleen Brewin Lewis
Brown Girl Dreaming
Jacqueline Woodson
Nancy Paulsen Books/Penguin Group (USA),
2014
Nonfiction/Poetry (Young Adult)
337 pages
Jaqueline Woodson won the 2014 National Book Award for Young People's Literature for
Brown Girl Dreaming, her memoir of a childhood begun in 1963 in Ohio, and enriched and
divided between the diverse worlds of Greenville, SC, and Brooklyn, NY. The book's format
is a novel one, brief chapters of free verse that are both lyrical and narrative—prose poetry.
There are many threads to Woodson's life story: the Civil Rights movement and the varying
speeds with which it moves through the North and the South, her development as a writer,
and the deep love that knits her family together through both good and tragic times.
When her parents divorce, Woodson and her two older siblings move with their mother
from Ohio into their grandparents' home in Greenville. And although she soon recognizes
that the South is a much more restrictive environment for blacks than the North, she falls
into the warm, humid embrace of the natural world there, and of her grandparents' decent
ways. In the chapter entitled "lullaby," from Part II, "the stories of South Carolina run like
rivers," Woodson writes:
At night, every living thing competes
for a chance to be heard.
The crickets
and frogs call out.
Sometimes, there's the soft
who-whoo of an owl lost
amid the pines.
Even the dogs won't rest until
they've howled
at the moon.
She develops a close relationship with her grandfather, whom she calls "Daddy." He teaches
her to garden because "this is what he believes in/your hands in the cool dirt/until the
earth gives back to you/all that you asked of it./Sweet peas and collards,/green peppers and
cukes/lettuce and melon,/berries and peaches . . ." And when her mother becomes restless
and moves to New York City, assuring Woodson and her siblings she'll send for them soon,
Woodson's grandmother brings the children into her church, the Jehovah's Witnesses,
structuring their lives with Bible study, Ministry School, and Watchtower distribution.
Woodson's mother returns to Greenville to move her children to New York, bringing a new
baby boy with her. And although Woodson longs to be with her mother, she can hardly bear
to leave her grandparents. She describes Brooklyn as "cold and treeless as a bad dream,"
"nowhere I'm ever going to call home."
Gradually she begins to connect with her new environment, enjoying the company of her
mother's sister and brother who live there, starting school, making a best friend for life.
Then the tragedies begin. Her aunt dies from a fall, her uncle is sent to prison at Rikers
Island, her younger brother gets lead poisoning from eating the peeling paint in their
apartment. And back in Greenville, where they return each summer, Woodson's grandfather
is growing thinner, dying of lung disease. Meanwhile, the freedom marchers move forward.
Even though Woodson struggles to read at school and pales as a student in comparison to
her older sister, she discovers a love of stories, begins to write. She keeps a list she entitles
"how to listen." Number 10: "Write down what I think/I know. The knowing will come./Just
keep listening . . . " This desire to listen and write becomes stronger and stronger for
Woodson, as she absorbs the messages of Angela Davis and the Black Panthers, the
Jehovah's Witnesses and the Black Muslims. As she remembers her Southern roots and
experiences the diversity of big city life. As she grows from a young girl dreaming into a
young woman publishing her writing.
In June of 2015, The Poetry Foundation named Woodson the Young People's Poet Laureate.
In doing so, the foundation's president, Robert Polito, described her as "an elegant, daring,
and restlessly innovative writer."In addition to receiving the National Book Award for
Brown Girl Dreaming, Woodson is the winner of the Margaret A. Edwards Award for lifetime
achievement in writing for young adults, three Newbery Honors, the Coretta Scott King
Award and the Los Angeles Times Book Prize.
Although Woodson writes for an adolescent audience, Brown Girl Dreaming is a lyrical,
meaningful, nuanced read for any age.
Kathleen Brewin Lewis is Senior Editor of Flycatcher